About Music in Fermanagh

Music in Fermanagh originated when five colleagues on Fermanagh District Council's Arts and Culture Advisory Committee felt that an independent body would be more effective in bringing classical music to Fermanagh for the widest possible audience.

Since then we have been joined by three more enthusiasts, all with impressive experience and, since we all benefited from the joy of exposure to music when we were children, we have become more determined to include as many young people as possible in our programmes.


Board Members & Advisors
Richard Pierce (Chair)


Richard was born into a musical Enniskillen family. In his teens, taught violin by Joan Wilson, he was leader of the Portora Orchestra and once, on a rotation basis, he led the Ulster Youth Orchestra in the Whitla Hall, Belfast. An architect with his own successful practice all of his life, he has always been involved in all the arts; music and singing in particular. Voice-trained by James Shaw in Belfast, Richard also had lessons from Laura Sarti and Paul Hamburger. He sang opera. Twice, as Commendatore and Don Alfonso for Pimlico Opera, in London, he was actually paid for his services! He also sang solos regularly with Fermanagh Choral Society. In public life, Richard has been on the boards of the Ulster Architectural Heritage Society, the Ormeau Baths Gallery, the Ulster Museum and the Arts Council for Northern Ireland, where he chaired the Visual Arts Committee.

Helen Lanigan Wood (Vice Chair)


Helen's first foray into organising classical music concerts was as a student at UCD where she played cello in the college orchestra, which she co-founded under the conducting skills of Coleman Pearce. A native of Kilkenny and an archaeologist by academic training, she has given the greater part of her professional life to Fermanagh as the curator of our County Museum where, amongst many other things, she set up traditional music concerts. In the 1970s and 80s she coordinated classical music concerts in association with Fermanagh District Council's arts officer. More recently, Helen has helped to organise traditional and classical music concerts with Enniskillen Arts Festival and Fermanagh Live. Nationally, Helen has served on the board of The Arts Council of Northern Ireland, the board of the Tyrone Guthrie Centre and the Cultural Relations Committee of the Department of Foreign Affairs in Dublin.

Fiona Plunket (Press Officer)


Born in Wales, the daughter of a professional actor and singer, Fiona spent her early years in the South of England. Passionate about art and the performing arts from an early age, she enjoyed many weekends watching the theatrical greats of the time rehearsing at the Old Vic and National Theatre. After deciding against following in her father's footsteps she joined fine art auctioneers Sotheby's where she remained for 20 happy years becoming director in charge of their London Press Office. Following her marriage in 1990 she moved to Fermanagh which she has made her home. Fiona continued working in P.R. including looking after the publicity and promotion for Belle Isle Castle, Estate and Cookery School from 2000 - 2013. Although not a performer she has always been a lover of music, in particular chamber music. Fiona is a Trustee and County Assessor for Hope for Youth Northern Ireland, a charity that focuses on assisting young people.

Mahen Varma


Professor Mahendra Varma, cardiac consultant, recently retired, gave his life's work to the people of Fermanagh. He looked after our hearts. Now, through music, he's helping to feed our souls. His contribution to public life has been immense. He has been chairman of the board of the NI Chest, Heart & Stroke Association, a member of NI Research and Ethics Committee (a statutory body under UK legislation) to assess and approve all NHS research projects) and chairman and member of many local and international committees, formulating guidelines and protocols for the management of patient care. Outside the medical profession, he has been a member of BBC Audience Council and, for over twenty years, a tutor in Northern Ireland for the London-based Wine and Spirit Education Trust. He is deeply steeped in Indian music and although he has no formal training in Western classical music, he derives great pleasure from it.
Geoffrey Blower (Secretary)


Geoffrey has intertwined two careers all his life. Recently retired from teaching, latterly as a primary school principal, his second career as a professional singer has given the classical music aficionados of the North of Ireland the pleasure of his high baritone voice. After training with the best teachers in Belfast, he sang leading rôles with Studio Opera, Castleward Opera and Opera Northern Ireland (and Fermanagh Choral Society!). He taught singing at the Belfast School of Music and at Queen's University. He also sang as a lay-clerk in St Anne's Cathedral in Belfast. Geoffrey was a regular judge on UTV's Choir of the Year. He also sat on the appointments committee of the Belfast Education & Library Board, selecting vice principals & principals. He also interviewed, along with a senior lecturer, candidates for entry into Stranmillis University College. Geoffrey is, at present, studying for a degree in law.
Joanna McVey (Treasurer)


Born into a very musical household, the daughter of an internationally-renowned composer, with all the exposure to music which that brought, it followed naturally that Joanna should study music, obtaining a B.Mus from Trinity College, Dublin. But from her family Joanna also inherited the Impartial Reporter and was its managing director for the last years of its life in private hands. Her public service has been exemplary. Nationally she has served on the NI Museums Council, the NI Rural Development Board (chairperson) and is currently a member of the National Trust's Regional Advisory Board. Locally, Joanna is a trustee of the Fermanagh Trust, the Devenish Partnership Forum, the Viola Westminster Bursary and an advisory member of the Joan Trimble Bursary Awards. She is a former chairperson of Fermanagh Arts Festival and former classical music secretary of Fermanagh Feis. Joanna has a soft spot for jazz, at one time playing piano in a local band, Jazzwyse.

Evelyn Hassard (Education Advisor)


Education Advisor At Stranmillis College, where Evelyn studied music and education (B. Ed) she shared her rich alto voice in solo performances. After her first teaching job in Newtownards, where she directed "Oliver", she spent ten years teaching in Switzerland at the InterCommunity School in Zurich, "the most amazing, open-minded, tolerant and creative environment one could possibly imagine". There, as well as her regular teaching, she directed the school production of West Side Story, sang in the Zurich Bach Choir and set up her own adult choir. Since returning to her native Fermanagh, Evelyn conducted another of her own choirs, Cantari, and taught in the Duke of Westminster School in Kesh / Ballinamallard and, from 1994 and for the last fourteen years of her professional life, at the Collegiate, where she brought a love of music into the lives of all her pupils. Over her entire teaching career she has been responsible for twenty-four staged musical productions. Evelyn is on the board of Fermanagh Live Festival.

Mara O'Reilly (Assistant Treasurer)


Mara was delighted to accept the post of assistant treasurer on the Music in Fermanagh committee in 2021. She had been treasurer of the Enniskillen Tennis Club and the Fermanagh Arts Festival, Flive previously and was happy to put her accountancy skills to good use again. Her reasons for joining this group are numerous and varied. She is in awe of classical musicians. Their technical ability and knowledge she finds inspirational, their live performances thrilling. To be involved in bringing professional musicians to our local audience is exciting and most satisfactory. From hearing these musicians on the radio and attending concerts in cities around Europe it is great to be on the team which brings them to County Fermanagh. It is wonderful to be involved in facilitating workshops for our local students given by travelling artists. Mara's children enjoyed  a high standard of musical tuition here in Enniskillen which gave great joy to all the family. Mara believes that Music in Fermanagh are bringing events which enhance the programme offered at our local theatre and other local venues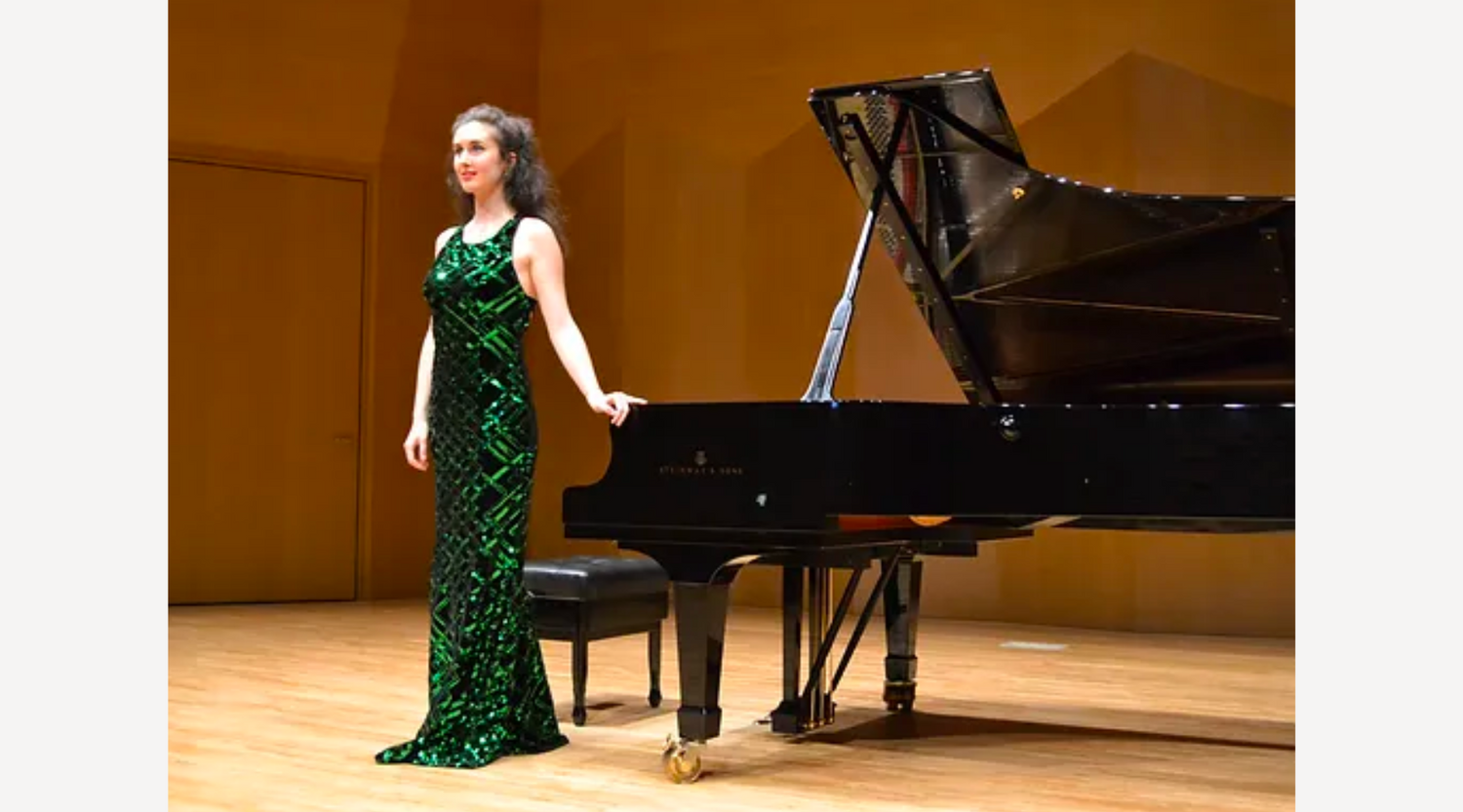 Guest Artists
A look into the Music in Fermanagh archives to learn more about the artists we have featured across the years!

View All →

Pictured: Sinziana Mircea